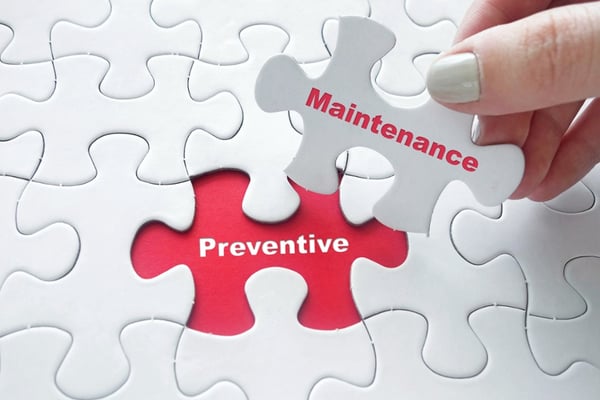 A Preventive Maintenance (PM) program comprises of scheduled servicing, repairs, inspections, and checks to identify and fix potential problems and ensure vehicles are road-ready.
PM programs are the best solutions for fleet managers to reduce repair costs, lengthen then the lifespan of assets, and guarantee uptime.
Creating a PM program and sticking to it can be a daunting task due to disorganization and reliance on manual systems.
Below are five key components you can use to
1. Scheduled Service Reminders
Most fleet managers rely entirely on odometer updates to create maintenance schedules. Since many organizations still use paper processes, drivers can only provide odometer readings once they return to the office.
This means that fleet managers receive infrequent and oftentimes inaccurate odometer updates. Instead of consulting with drivers or manually tracking when service is due, having a fleet management software ensures you receive frequent and accurate odometer updates to automate service reminders.
You can integrate your fleet management software with telematics systems and mobile apps that drivers can use to update odometer readings timely for you to schedule routine maintenance.
2. Inspection Results
A successful preventive maintenance program is driven by information availed during regular inspections. Routine inspections like the Daily Vehicle Inspection Reports where results are sent electronically provide efficiency when creating a PM program.
Trained personnel; can also conduct inspections during yard checks, at fuelling stations, or in designated inspection areas and avail the data. Recording inspection results on work orders ensure that issues identified during the inspection are addressed before they result in major breakdowns that require a considerable amount of resources.
Having all inspection data within a centralized allows you to track common and recurring issues across vehicles, which help you to make data-driven maintenance decisions.
3. Service Programs for Bulk Management
PM tasks vary across different types of assets. Creating service schedules for every asset in your fleet is tedious and time-consuming. To simplify the process, you will require service programs that will create and manage service reminders across assets to help in standardizing their preventive maintenance.
This will give you a solution to organize service tasks and attribute them to specific assets in bulk. With Wilmar's service program, you can manage multiple vehicles at a time.
4. Fleet Reports
Whether your PM is done in-house or outsourced to third parties, it is important to leverage the available data to track the effectiveness of your program. Outsourcing is a cost-effective solution in the commercial setup, hence giving you time to concentrate on other issues.
Taking a proactive approach in both in-house and outsourced services goes beyond receiving timely updates and reminders regarding your fleet. The approach requires timely analysis of the data for inconsistencies whilst making frequent adjustments to best suit your fleet's changing requirements.
Advanced fleet management systems help you to directly improve the effectiveness of your PM program by providing information to drivers about their next service and letting them know where to access services while on transit.
5. Inventory and Parts Management
Optimizing your parts and inventory helps in supporting a cost-effective and efficient PM program for your fleet. There is need to ensure you have adequate stock of the most commonly used maintenance parts including fluids, hoses, belts, and filters.
You can train your parts room employees on how they can organize and track the fastest moving parts and inventory. You can also integrate barcode inventory management systems for parts to allow you to track inventory and generate reorders once the available inventory falls below the minimum order level.
Wilmar Inc. is your leading provider of customized preventive maintenance services for your fleet assets. To learn more about how we can help you with an effective PM program including fleet software management and service programs, contact us or visit our office in Charlotte, North Carolina.