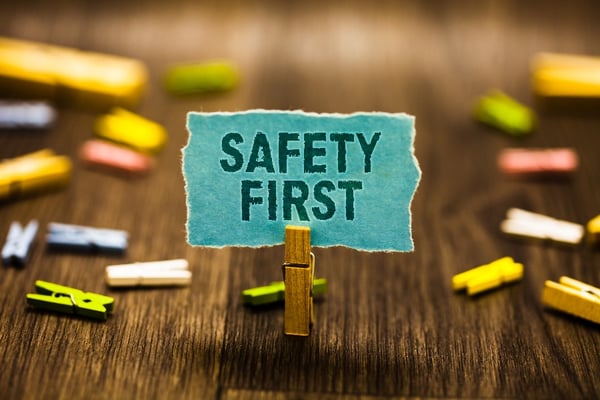 According to the National Highway Traffic Safety Administration (NHTSA), on average, a fleet accident that causes injury can cost $70,000. For perspective, the typical workplace injury costs $36,000.
The point is, fleet safety should be a priority regardless of the size of your fleet. The following are the steps you should follow to build an effective fleet safety program.
Establish and Write Down A Fleet Safety Policy
Any business with a fleet of vehicles should have a safety policy. However, a good safety policy should address the needs and the problems your business is facing. Therefore, the first step when creating a fleet safety policy is identifying your problem areas such as an increase in risky driving. You can review your fleet's incident reports to determine where you have problems.
Then, create goals that address your problem areas. Let us say you have identified the problem of increased at-fault accidents. Your goal could be to reduce these accidents by say 30%.
Reasonable goals have timelines. The timeline helps with the efficient and successful implementation of your safety policy. Additionally, you should review your policy regularly to see if it is working and make the necessary adjustments.
Finally, formalize your fleet safety program by writing it down. Then distribute it to the necessary stakeholders, such as drivers and fleet managers. You could even hold a meeting to introduce the safety policy and answer any questions and concerns that might arise.
Install GPS And Dashcams On Vehicles in Your Fleet
Implementing and improving your fleet's safety program requires data and visibility provided by dashcams and real-time GPS tracking. If they know their movements and actions can be tracked in real-time, drivers are more likely to drive safely. Besides, there are other benefits of tracking systems for fleet management, such as saving fuel costs.
Hire Reliable Drivers
A robust fleet safety program means nothing without the right crew to follow it. Therefore, you should have a strict screening process.
Start by performing a background check and employment history search. Then, request for motor vehicle reports (MVRs) and alcohol/drug violations.
Ongoing evaluation and screening are also crucial. So, perform random drug tests and regularly review their records.
Improve Driver Performance Through Data-Driven Coaching
The effective implementation of a fleet safety program requires the involvement of the drivers – tell them why the safety program is necessary and the risks they face. Of course, they are going to skeptical about some changes such as dashcams and drug tests. However, by showing them the importance, they will become invested and proactive.
The point of involving them is improving their behavior and performance through data-driven coaching. Use data from the telematics system (GPS) and dashcam as the foundation for further training. According to the NSTSCE, up to 87% of accidents involving commercial vehicles are caused by driver errors. But, data-driven coaching reduces these accidents by up to 52%.
Fleet Maintenance and Inspection
Another significant threat to fleet safety is faulty equipment and poorly maintained vehicles. Therefore, your safety program should involve regular fleet inspections.
There should be a daily, weekly, and monthly inspection. In fact, inspection should be part of the training so that you can empower your drivers or supervisors with the skills to perform daily inspections. It is advisable to have a professional fleet maintenance and repair company perform the monthly and weekly inspections.
More often than not, your vehicles and drivers are on the road. Therefore, you should consider a software solution they can use to perform inspections while on the road.
Whether you own 2 vehicles or 200, crashes and accidents will affect your bottom line. An effective fleet safety program is not only good for business but also reduce injuries and save lives. So, use the steps outlined above to create or improve your fleet safety program. For additional help with fleet safety and management, contact us!