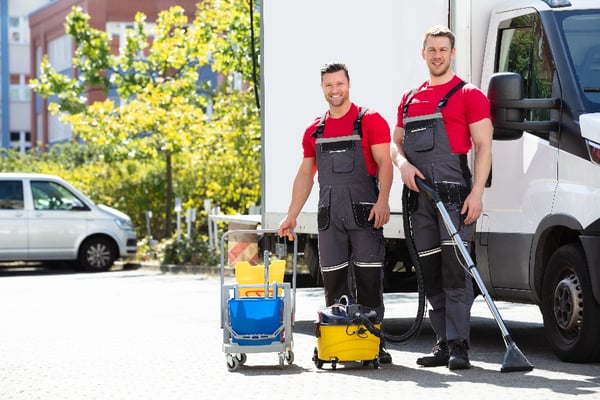 Company vehicles are put to more intensive use than almost any personal vehicle. Business fleets work for more consecutive hours and do heavier work than even the most dedicated commuter. So the challenge of keeping your company vehicles clean should come as no surprise.
In many fleets, technicians practically live in their vehicles, up-to and including eating lunch with the team inside the vehicle. Other fleets ferry a few dozen passengers each week while another set of company vehicles drive through grime that coats from bumper to bumper.
But you still need to keep your company fleet in good condition. You want your vehicles to look good on the road and to maintain their resale or leasing value. Here's how to make that happen:
Build a Routine
The key is to build a vehicle maintenance routine that includes keeping the fleet clean, inside and out. Simply work car washes and clear-outs into your schedule and workflow.
Once everyone adapts, business-as-usual will result in a sparkling-clean company fleet.
1. Replaceable Washable Floor Mats and Seat Covers
One of the smartest places to start is protection. You know that muddy feet, dirty clothes, and work equipment will eventually see the inside of your vehicles.
So armor up and prepare for washing. Replace the dealership floor mats (stored safely indoors) with washable, replaceable floor mats you can exchange quickly. You can even brand your washable floor mats.
We also recommend seat covers, front and back. This way, any lunch spills or dirty clothes won't matter, your vehicle interior will remain pristine while you wash the soiled covers instead of scrubbing cushions.
2. Exterior Wash and Wax Weekly/Monthly
Run your fleet through a car wash weekly or monthly. Base your schedule on how dirty your cars get on-duty and how clean they need to look for clients.
Towncars for visiting execs need to be sparkling more often than work trucks, for example.
Be sure to include waxing in your car wash process. A layer of wax will help your vehicle remain clean and shine attractively for a longer period of time after the wash.
3. End-of-Day Trash Cleanup
Get your team in the habit of clearing out trash from the vehicle at the end of every day. Part of the break-down and wrap-up process should include emptying the car's trash receptacle and checking for trash on the floor or under the seats.
When this becomes a routine that everyone does every day, trash in the cars will never be a cumulative problem. Perform inspections every few weeks to make sure there aren't any lost repositories of empty bottles, as can sometimes happen.
4. Daily Restock
In addition to the end-of-day cleanup, add a daily restock routine to your morning or evening procedures. Each day, have your team go through the vehicles and make sure that each has all the equipment and supplies it needs for the next day.
Pair this with the daily maintenance inspection and your teams will always be safe and well-equipped on the road. We advise you have teams check each other's vehicles to avoid habitual oversights.
5. Interior Vacuum Clean Monthly
About once a month, dive in with shop-vacs and hose attachments to pick up all the crumbs, gravel, and tiny trash that gets lost in cars.
Don't be afraid to scoop out things that are too heavy, like coins and small rocks. Vacuuming is a great way to keep vehicles fresh and free of grit. This is also a good time to clean the windows inside and out.
6. Interior Shampoo Clean Biennially (Twice a Year)
Lastly, remember to shampoo the seats, floor, and other fabric-areas about twice a year, or biennially. This is often enough that your seats will always smell faintly of shampoo and the fabric will be in pristine condition when you decide to resell or the lease ends.
Especially for passenger vehicles, regular shampooing can make a big difference. Simply write it into your business schedule and make it happen based on the routine.
---
Taking care of your fleet is easier than you might think. While there are many individual tasks, they fit into an ongoing maintenance routine together smoothly.
For more information about building or maintaining the perfect business fleet for your company, including keeping the company vehicles clean, contact us today!