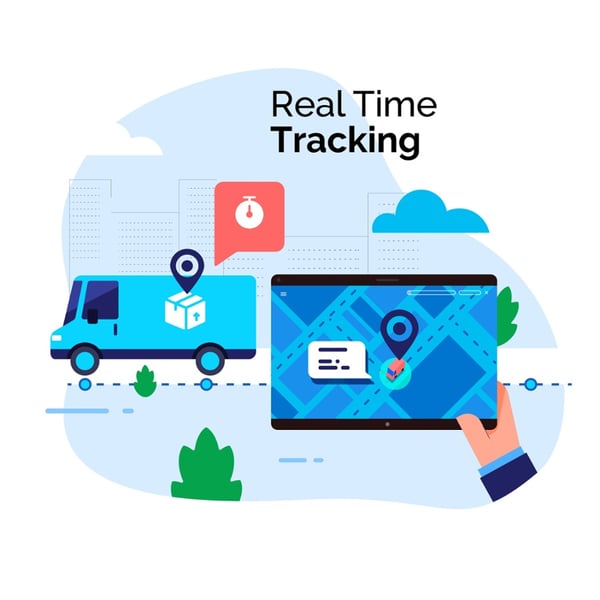 Tracking your fleet is inherent to any commercial fleet management, but the way you do it is unique to each fleet and manager.
Maps, spreadsheets, time clocks, fuel use, and mileage are our traditional tools, now automated through adaptive software. But the one thing most useful to a fleet manager is real-time fleet tracking. The ability to know exactly where each vehicle is and anticipate driver challenges is what truly streamlines a team.
Fleet managers have pioneered radio, GPS, and live mapping techniques to help their drivers in real-time. Now, modern wireless technology has made it possible to truly track and assist each vehicle in real-time through a variety of methods. Today we are diving into the many ways now available to fleet managers to implement real-time fleet tracking.
1) GPS Positioning and Live Software Mapping
GPS and live mapping software have both been around long enough to be available for every fleet. The only question is how you choose to implement them. Wireless signal, usually through the cellular network, can transmit the GPS location of every vehicle. Connected correctly, the vehicles themselves will power GPS devices which can then send the data to you map hub, representing the location of every vehicle.
There are a number of ways to achieve this configuration, the most surface-level being driver cellphones and the most integrated being built-in transmitters. The nuances of your implementation will be defined by the needs of the fleet.
2) OBS Plug-In Devices
Location isn't the only thing you can transmit. An OBS device plugs into a port usually found below the steering wheel. This reads vehicular data. Speed, velocity, brake pedal use, torque, and warning lights among other data can be accessed through an OBS plug-in device. If that device is also a transmitter or connected to your transmitter, you can read live data about each fleet vehicle from your fleet management software hub.
The OBS data is essential, as it can tell you if a vehicle needs maintenance, in trouble, or driving erratically. OBS provides context and depth to location data.
3) GPS and Communication through to Driver Cellphones
The most approachable live-tracking solution is to connect through driver cellphones. Most people have a cell or can be provided one. Through that, you can run a team app that provides GPS tracking and live communication at the same time. With modern vehicle displays, you can even send messages or adapt the driver's navigation display from headquarters through their personal mobile devices.
4) Vehicle Integrated Mobile Devices
The next option is to install a mobile device directly into the vehicle. You may attach a permanent mount or embed a device into the dashboard or console of vehicles. This adds all the communication and tracking of a driver cellphone, only each device is permanently assigned to respective vehicles instead of going home in driver pockets. To do this, you can set up built-in power.
5) Vehicle Computer App
A modern alternative is to develop or use an app designed to work on vehicle computers. There are mobile apps that can interface and a few apps built specifically to function through vehicle consoles. They are built on current mobile device technology though may require specific native platform adaptations based on the make and models in your fleet.
6) Radio Transmission
Of course, the previous technology is not out-dated. You can still use radio installed in each vehicle and HQ to keep in touch in real-time and even defeat weak points in the cellular network. Drivers who know how to use their radios in emergencies and cellular dead-zones become capable and reliable cornerstones of the fleet.
7) Streaming Dash Cams
The final fleet-tracking method is dash-cams - cameras installed around the vehicle to observe its location, circumstances, and movement. An inward-facing dash cam acts as a security camera - which may be essential when passengers are on board. Outward-facing cameras create a stream and a record of traffic situations and the circumstances of any potential accidents.
Real-time fleet tracking can be done in any way that works for your vehicles, drivers, and daily workflow. Contact us today to build the ideal fleet for your business.