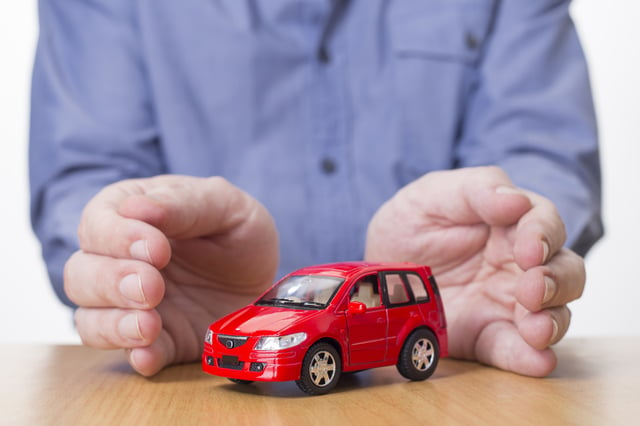 A good looking fleet vehicle operated by a safe driver is a moving advertisement for any company. Fellow drivers on the road will notice the vehicle and how it is being driven. They will remember the company's name for future needs of service. Empowering employees to take better care of their fleet vehicle will make a company shine.
Assigning each employee a specific vehicle that is theirs and theirs alone will show them that management believes they can be relied upon to do their job to the company's expectations. Sharing a vehicle with another employee can be difficult.
Each person does things differently so there may be conflicts between drivers. Knowing that the vehicle assigned will not have another driver encourages each employee to care for the vehicle as if it is their own and neglect is less likely.
Along with the assigned vehicle, drivers should be given a manual clearly citing policies and procedures of operation. The manual should include an acknowledgement page that states the employee has read everything and takes responsibility for their vehicle.
Once signed, a copy of the page goes into the employees file. The employee should receive a copy of the manual. Policies and procedures can include:
Company expectations for a clean driving record

Notice that vehicle is for business use only

How to properly store equipment and tools

What to do in case of an accident or if the vehicle is stolen

How to report an accident

Company's view on the transport of a hitchhiker, stranger, friends, or family and materials not belonging to the company

Not allowing any other employee or any known person not employed by the company to drive the vehicle

Company's view on smoking inside the vehicle
The manual should emphasize that drivers are financially responsible for any damages incurred if the policies are not followed and also for their own traffic citations such as parking and speeding tickets. Faced with the loss of out-of-pocket money drivers will pay attention to the policies, use of the vehicle, and their driving practices.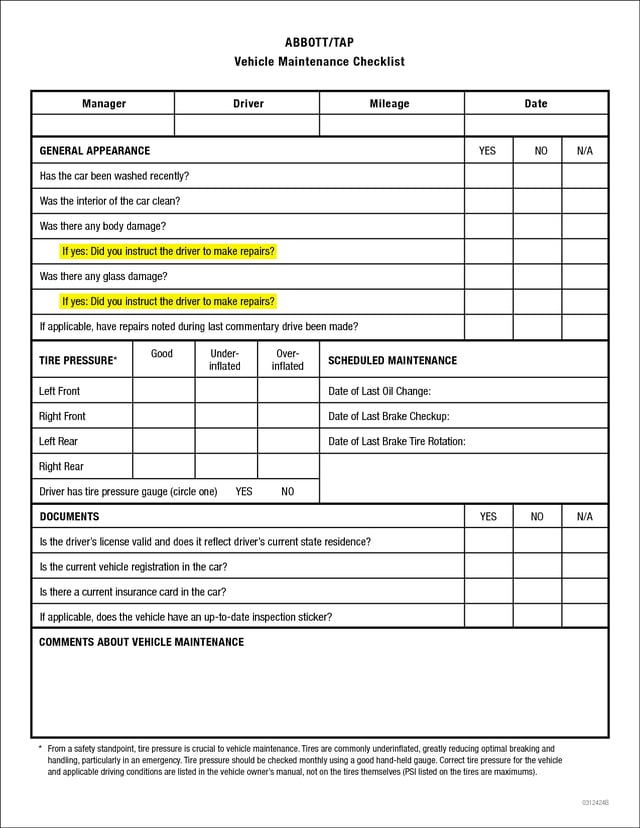 Many companies enforce suspension or immediate termination if an employee driving a fleet vehicle is arrested for DUI. This policy should be distinctly noted in the manual.
Interior cleanliness of fleet vehicles is a big problem for many companies. Full ashtrays, dirty windows, garbage littering the floor, tools not put back in the right bin, are some cleanliness issues.
Not only does interior neglect destroy the company's image, it depreciates the value of the vehicle for resale or return if leased. Employees should be educated on the necessity of a well-maintained vehicle.
Creating a pre and post trip maintenance schedule to be followed every time a fleet vehicle goes out on a job provides direction for employees. A box is checked off for each task, out and in times of the vehicle is recorded, and employees date and sign the sheet.
Maintenance schedules are then turned into the person in charge of fleet maintenance. Tasks can include both cleaning and mechanical checks such as:
Washing windows inside and out

Sweeping out the vehicle

Checking for tool placement and that all needed equipment is onboard

Check fluid levels

Check that windshield wipers and mirrors are in alignment and that lights are working properly
Drivers should also receive a list of mechanical maintenance schedules. We can create a timeline and process for your employees to follow to take care of their vehicles. To find out more contact us.
Finally, empower employees by generating a driving safety program. Topics such as tailgating, following traffic laws, use of seat belts, and winter driving tips can be addressed through a monthly newsletter, regular meeting, or special website page.
Drivers that have the company's trust and are expected to be responsible for their vehicle will care for it as if it is their own. A well running fleet will get them to appointments on time and that too, makes a company shine. Contact us today for a free fleet analysis so we can show you how to manage your fleet and lease wisely.