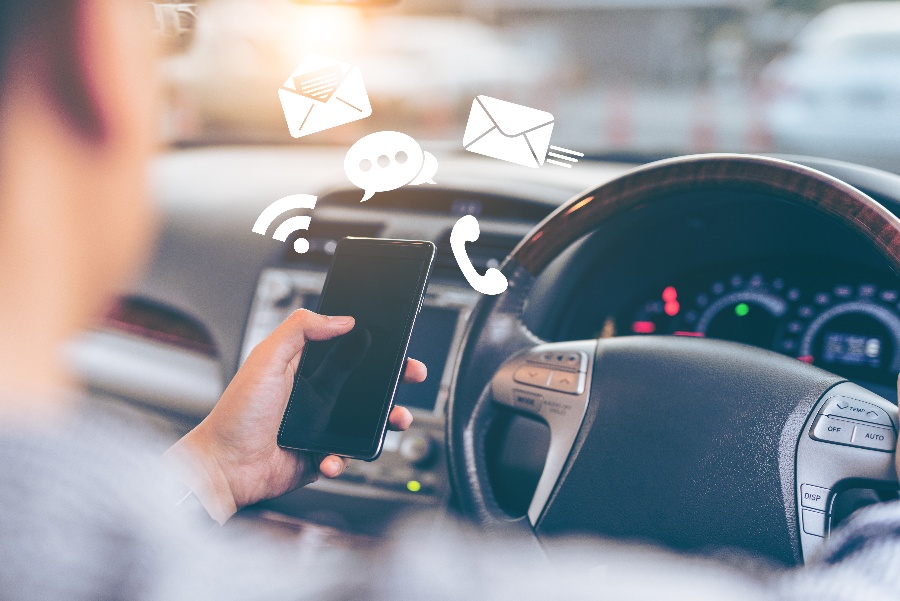 Smartphones have transformed modern society. We are more connected, more informed, and also more likely to check the darn things a few hundred times a day. While it's great to be able to text-message everyone you've ever known and to look up any fact you've ever been curious about - these are not activities that should take place behind the wheel.
As a fleet manager, smartphones in the vehicle are primarily a source of distraction. When your vehicles are already kitted out with everything your drivers need to stay connected to the route and the team, smartphones should be silenced and banished until they are off the clock and off the road.
Fleet Driving is Not BYOD
There are two types of commercial drivers in today's economy: Fleet drivers and gig drivers. Gig drivers need their smartphones to run their gig apps, and would be advised to get a dashboard mount with hands-free features so their phone is always in-sight but not a glance-down distraction.
Fleet drivers, however, are driving commercial vehicles that are typically fitted with advanced navigation, tracking, and communication tech so that smartphones are unnecessary. They could forget their phone at home and still complete a perfect route. This makes fleet driving uniquely not BYOD (bring your own device).
If your fleet does rely on a mobile app on your drivers' pones, it's time to consider hands-free dash mounts or an alternative.
Smartphones are a Liability
Distracted driving has become one of the leading causes of accidents on the road - both for commercial and consumer drivers. Your drivers need to be on-point in order to watch out for other drivers who might be looking at their phones. If your fleet drivers are distracted on the road, they are creating a risk of injury for themselves and others and a liability for the company.
In fact, if a driver's phone shows recorded activity after an accident, they can be legally proven to have been wilfully distracted and at fault.
Put Phones Away Before Taking Off
Putting smartphones away should be part of every driver's pre-flight plan. If a smartphone needs to be part of your route operations (ex: client communications), then make sure there is a passenger available to handle phone management. Answering calls and text messages should never be done by the person behind the wheel, even if your brand prides itself on responsive "driver" interactions.
In general, ask your drivers to place their phones safely in the glove compartment or secured in their personal bags while the vehicle is in motion.
Check Phones When Stopped and On Breaks
We also understand that fleet drivers are human and sometimes they need to monitor their phones. A sick relative or other important life matter might come up during work. If so, policies should allow them to check their phones when the vehicle is fully parked (not stopped at a light) and when they take their official rest and lunch breaks.
If you know a driver might have a family emergency in the works, consider swapping them with their typical passenger so they can safely stay by the phone while also attending to their work duties.
Emphasize a Culture of Safety
If you are about to implement new smartphone restrictions among your fleet team, emphasize the importance of safety. Talk about crash stats, distracted driving, and safety behind the wheel. Getting everyone onboard with phone and driving safety is the best way to make sure your drivers aren't tempted to peek at their phones on the road.
Distracted Driving Awareness Month with Wilmar Inc
At Wilmar, we take fleet safety very seriously. Distracted driving has become a leading concern as both phone and fleet technology become more prevalent across the board. We can help you build a fleet with onboard technology that optimizes your operations while minimizing driver distractions.
Let us help you help your drivers to put away their smartphones. Contact us today to explore your options.