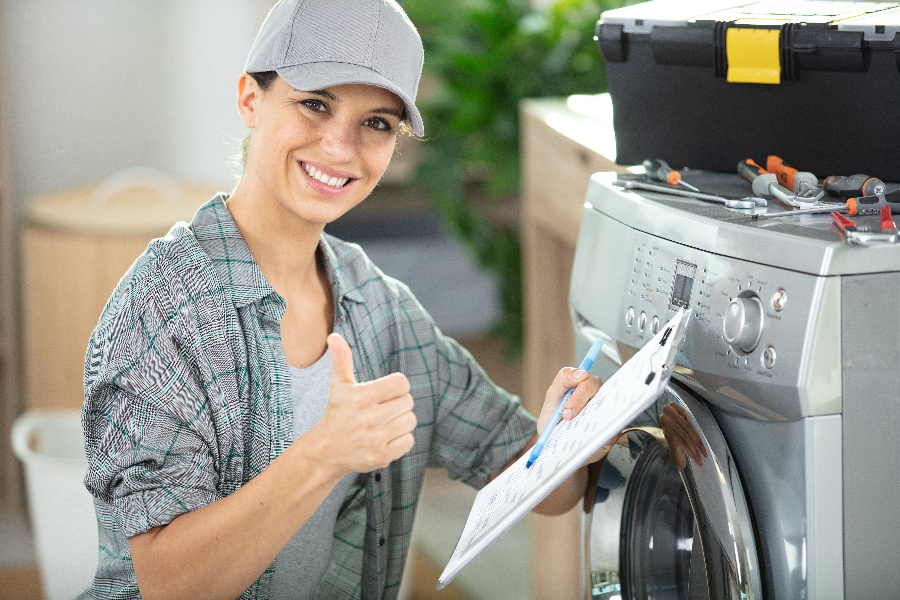 Appliance repair is a necessary field service with an uninterrupted demand for fleet vehicles and on-site technicians.
But times and how we do things have changed over the last year. Between the pandemic and the need for families to remain virally isolated, providing home services has become a hot-button issue for many families and technicians alike.
While appliance repair can't be put off indefinitely, we also need to keep everyone involved, families and technicians, safe in the process. Many industries have settled into a new, socially distanced workflow, including appliance repair and other home services.
So what does this mean for technicians in appliance repair fleets? First, the demand for appliance repair hasn't ebbed, it's increased, providing an even greater career incentive to learn appliance repair if this is in your plans. Second, we as an industry and a team have codified safe, socially distanced methods both for learning and for providing appliance repair services.
Today, with greater perspective, we'd like to walk through learning appliance repair with you considering the new factors and the need for social distancing.
The Increased Demand for Appliance Repair Today
Demand for appliance repair and other in-home field services is still ever-present. Briefly, there was a small lull in home service calls as the world locked down and families put off non-urgent (and a few urgent) repairs while everyone figured out how to quarantine. That time has passed and families quickly addressed repairs that repairs can't be put off for long.
Demand remains steady for the same reasons that appliance repair is also a recession-proof industry: Every home and business has appliances, and they break down in predictable ways and time-spans. Appliances don't stop needing service because of a pandemic.
In fact, it's quite the opposite. The move to remote work and school has more family members at home more of the time. People are eating out less, so stoves and dishwashers are getting more work. People are working out at home instead of the gym, and are free to change clothes more often so washing machines and dryers are getting more use. ACs and heaters aren't turned down when the house is empty, so even the HVAC is getting more use.
Needless to say, demand for repairs is on the up-tick, not down-shifting. Several appliance repair teams are increasing their vehicle fleet size to meet the growing demand from constantly at-home clients.
Providing Appliance Repair in a Socially Distanced Reality
Appliance repair technicians have adapted to the new socially-distanced requirements with extreme care. Respecting a client's home now extends to respecting their quarantine, which means neither bringing in nor picking up viral exposure when entering a client's home to provide repairs.
Fortunately, this is workable. As an industry, home service professionals have worked hard to devise the right methods to enter a client's home, provide service, and depart without breaking quarantine for the family or putting technicians at risk.
The 3 Tactics for Providing Contact-Free Appliance Repair Service
To provide viral-safe services in homes that may or may not be in quarantine, use these three methods for contact-free and socially distanced home services.
Clean-Room Visiting Protocols
The first step is physical protection of both the home and the technician. We've gone into this method in-depth in previous articles that we encourage you to read. In essence, home services are now conducted using methods and materials developed by surgeons to maintain a clean room or operating room.
We now wear masks both to approach a home and during service. Paper shoe-covers and gloves can be used to prevent skin contact with any surface inside the home, even the floors. In some cases, technicians may carry portable air scrubbers, especially if you need to work without a mask for some part of the service. These methods are not difficult to implement and, in truth, add very little time to providing an appliance repair service.
One-Client Contact with Masks On
The next method to implement is managing client contact. In the past, it was no issue if technicians meet the whole family in the course of providing service. The entire family may answer the door. You may be met by curious children and friendly family pets. While pleasant, this is no longer a safe approach to repairs.
Now, technicians are calling ahead, arranging to meet with just one client per household, and very carefully at that. One client can ensure they are fully protected with mask and gloves, which makes it easier to ensure quarantine containment of each home and family.
Service When Clients are Not Present
Another rising trend is the absentee service. For decades, repair technicians have sometimes arranged to perform services in the absence of residents. This is more common for outdoor repairs, like an external AC compressor, but lately clients have been asking about services during times when they take the family out of the house - or arrange to be in the house but not meet the technician at all.
As long as you pre-arrange everything with the client and perform the service as agreed, a no-meeting service is both possible and safe.
Refit the Service Trucks with Everything You Need
Your appliance repair fleet could also use a tune-up in the face of COVID precautions. Perform a full cleaning on the inside and outside of each service vehicle and refit your in-vehicle storage to include all the clean-room type supplies you will need for a quarantine-safe service. You will want bays or bungee nets to hold pre-packaged sets of glove, masks, and paper shoe covers. You will want a new dock for your air purifiers and a dispenser for alcohol wipes to quickly sanitize hands and tools that enter a client's home.
---
Here at Wilmar, Inc, we know that the field service industry has both been seriously impacted and essentially remains unchanged. What we do and what we teach to new technicians is still the same. We just wear face and hand protection all the time instead of on a repair-by-repair basis. Contact us to find out more about learning appliance repair and providing service in the age of social distancing.