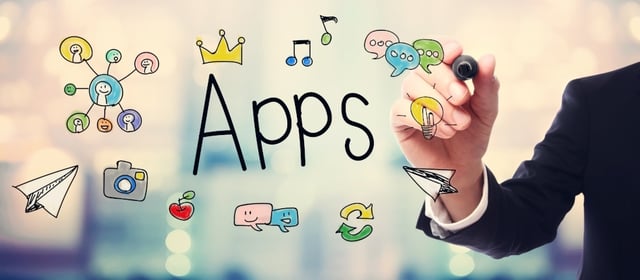 For fleet managers without access to a computer, fleet tracking mobile apps become an invaluable business tool for tracking vehicles, drivers and keeping you organized on the road and in the field.
You can keep track of drivers even when they're outside their vehicle, and some of them even feature a two-way communication system to keep in touch. What are some of the most useful and popular fleet tracking apps on the market?
If you already use the FleetMatics GPS fleet tracking account, you may want to install their mobile app. This keeps your ear to the pulse of your fleet with the latest information about your fleet. The time doesn't matter, and you can ask for alerts and investigate accidents, happenings and look at incidents through, "Route Replay."
This feature lets you improve the efficiency of your route to increase productivity and save on the cost of fuel. You also get several other features through the FleetMatics Web interface like:
Live Fleet

Alerts

Reports

Dashboard
In addition, as the need arises, you can locate the nearest vehicle to dispatch it to your customer's location for the best efficiency.
In Spanish, Contigo means, "with you," which also shows how this company will be with you as the app does its work. With this app, you can use your smartphone to manage your company's fleet, and you can track vans and trucks with real-time updates. You can also choose to track or hide specific vehicles as you work.
You might also want to see your entire fleet on a single map.Lying at the opposite end of the spectrum, you can zoom in on a specific vehicle to look at the idle time, running speed and stop time. This app runs on the Android, and it sees 1,000 downloads each month. While it's a quite simple app, it also provides fleet managers with excellent accuracy.
Want everything laid out in a straightforward and affordable manner? MyCarTracks hands you the reins of your fleet through a powerful tracking solution. The app has over 80,000 installs, and currently, they have thousands of active users.
You can track everything you need vehicles to drivers to employees and the routes they drive. MyCarTracks includes an "Auto Start Feature" where you save on battery life, knowing how these apps can drain the smartphone's battery life. This one adopts the philosophy of, "Set it and forget it."
It records and tracks the data of the entire day for you. While there are packages you pay for, you can also choose the free app where you receive up to two weeks on the data history of three vehicles. You can also get five monthly reports without the need to pay for it.
Grab a list of every vehicle you have and select the units you want to track. Any TSO Mobile customer should take advantage of this system because it even lets you track your fleet on the road. The real-time tracking from the map hands you three different views:
Zoom in on any vehicle to look at its location and click the icon to get the latest information on vehicles. You can also look at the history of specific locations from drivers to make sure they have stayed on track.
If you'd like to learn more about fleet tracking, contact us today! We are Wilmar Inc,

the Southeast's largest independent leasing and fleet management company.