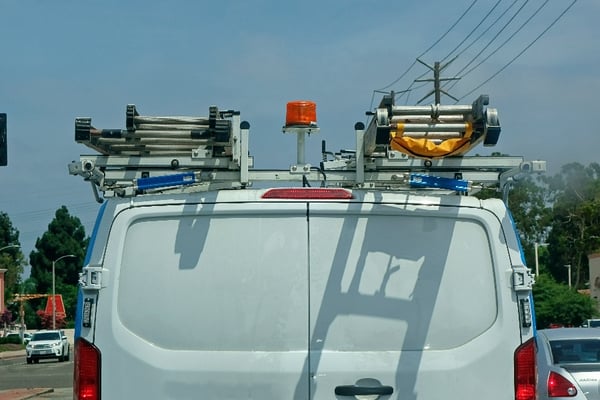 Each business vehicle is picked for qualities of both function and form. A utility vehicle is usually sturdy, spacious, and the right size or shape for the specialized equipment.
From laying spools of cable to professional carpet cleaning, utility vehicles are built to carry teams, machinery, and tools from one job site to the next. In the modern age of handheld computer analysis and cloud-coordinated GPS navigation, most utility vehicles also have a certain amount of digital tech, or could.
The best way to add flexible high-tech functionality to your utility vehicles is with integral device charging ports. USB ports are powered directly by the vehicle, so that if the engine is running, the port will provide power to any connected USB device.
But it's not just the basic function that's of value, let's take a closer look at why every utility vehicle benefits from integral USB charging ports.
Charge Anywhere, Anytime and Increase Potential Vehicle Utility
USB has been the dominating cable-type for both power and data in the past decade. There is a very good chance that any portable devices used by your team have USB charging capabilities.
Tablets, handheld computers, and many models of scanner all charge off USB. In the future, more industry devices and especially portable devices will charge with USB cables.
By having USB ports, you can keep your team's devices topped-up off vehicle power (no need to rely on batteries) and keep your fleet open to the next latest device without having to update the vehicle to charge them.
Build a Utility Charging Dock
In your utility vehicles, you can build custom charging docks for each regular piece of USB equipment or a versatile dock for any USB equipment. A utility charging dock allows your team to charge their service devices, their phones, and any new equipment being used for the first time.
A charging dock is broadly useful. Teams gain the versatility and the assurance of never being stuck with a dead device on a job. Even your clients can benefit when your vehicle on-site is a standard device charging station.
Adaptable On-Board Fleet Management
One of the best things about modern utility tech is fleet management. It is now possible with GPS and cloud platforms to track, route, and communicate with an entire fleet of utility vehicles from a central hub. Drivers benefit from an on-board navigation system and from HQ re-routing assistance when the schedule or road conditions change.
While you can build your fleet management devices into the dash, it's more flexible to mount them and charge from an integral USB port. This way, you can update your fleet tech when the next perfect combination of software and hardware can improve your fleet performance.
Equip Your Team with Mobile Devices
Many utility services have joined the 'mobile workforce' trend and equip teams with mobile devices. For example, assigning a well-encased tablet to each vehicle ensures that your teams have basic communication and computing power.
For utility services that equip teams with mobile devices, there's no avoiding the use of a charging station. Each modern device benefits from fast-charge USB power, a USB hub-splitter won't do.
Charging phones, tablets, and even some notebook laptops can be done entirely through USB A ports now.
Or Support BYOD Mobility
Finally, utility vehicle fleets upgrading to the mobile-workforce can also benefit from installing charge ports. BYOD or Bring Your Own Device encourages team members to stay connected on the job with their own phones or tablets.
Providing a place to charge-up supports this policy perfectly, allowing your team to keep their devices in top-condition while using them for the job.
Utility vehicles have a great deal to gain from adding a few fast-charging USB-A ports. Connected to the vehicle integrally, they can provide power to most mobile devices and portable service equipment. If you'd like more information and professional assistance in outfitting your fleet, contact us today!