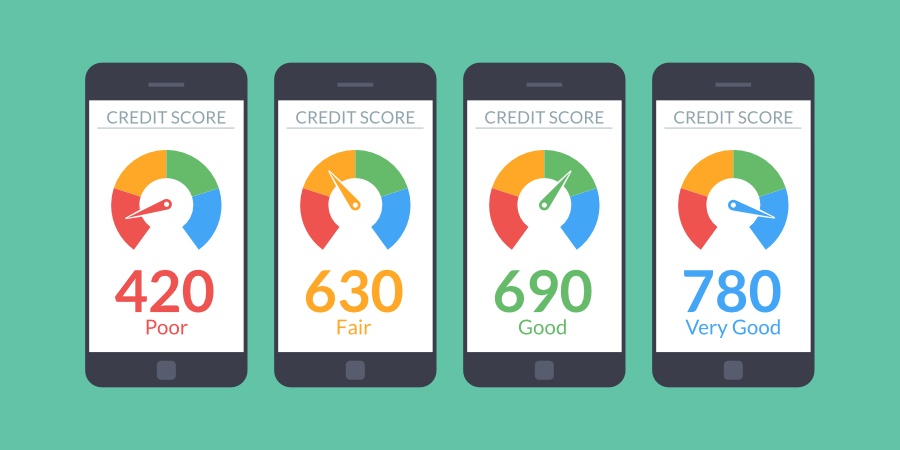 Buying a vehicle is a huge commitment, whether it's for a business or an individual. The down payment and the large vehicle loan on their own could be a stopping block but what really stops people from getting a car when they need one is their credit score.
Personal and business credit scores are made up of a wide combination of factors from how well you have paid off debts in the past to how much debt or open lines of credit you have right now. Any financial commitment can effectively lower your credit score, even if you are overall moving up in financial success.
As the old saying goes, "You have to spend money to make money".
Credit Score to Buy: 714
Credit Score to Rent: 525
Credit Score to Lease: 660
Credit Scores Can Stop a Vehicle Purchase in Its Tracks
Unfortunately, the credit score can act as a bumper, slowing your ability to both spend and make money by trying to provide an estimate of how much financial commitment you can handle. It takes time to improve your credit score by paying off debts, clearing lines of credit, and so on.
But when you need a vehicle for work, your credit score can all too easily stop you from accessing the transportation you need. Most lenders won't offer a car loan to anyone with a credit score below 660 and, if they do, your interest rate will be through the roof. Average buyer credit score is actually as high as 714.
Renting is Too Pricey for Long Term
When you need a vehicle, especially a high-quality one that will be used for work, there is simply no substitution no matter what your credit score is today.
If buying is off the table because you don't have the down payment capital or a high enough credit score, the next option may seem to be renting which has much lower credit score requirements of around 525. Most of us have rented a car at least once for a brief vacation or business trip, but usually only for a few days.
The problem with renting is that it is vacation-priced. The cost per day may be reasonable for short-term vehicle needs, from a weekend to a month of temporary transportation, but when you calculate it as part of your regular cost of living and doing business, rental is not an economic option. Especially if you must work through an agency that charged by the mile you need to drive.
Leasing Could Be Your Answer
What many people don't realize is that there is a happy medium between the credit requirements of buying a car and the financial burden of renting.
Vehicle leasing is a solution that businesses and professionals have been using since the 1940's when they need a vehicle in order to get work done but don't have the available capital or credit score to buy. Leasing, in practice, is a lot like renting but priced and designed for long-term use.
Unlike renting, a long-term vehicle lease assumes you will need to put some miles and wear on a vehicle and doesn't penalize you for this. Instead, your leasing company will help you keep the vehicle in top condition while you use it.
But, of course, what you're really here to talk about is credit score. Just as leasing is functionally halfway between buying and renting, so too is the credit requirements. Because you're not trying to prove you can support the full term of a loan, your credit score does not have to be perfect to lease.
Instead, you are committing to monthly payments, much like renting a home, and your credit score only needs to prove that you have the available income to cover the regular lease payments. This requires a credit score of about 660 or higher. However, if your score is lower, all it not lost. Many leasing companies are more than willing to work something out for only a slightly higher rate.
Is Leasing Right For You?
If you need a car for work now but don't have the capital or credit score to buy a vehicle, leasing is the ideal solution for both businesses and individual professionals.
Here at Wilmar, we make it our business to match each customer with the right vehicle and lease agreement for their needs and we're willing to work with the credit score you have today.
For more information about leasing the vehicle you need, contact us online or drop by our leasing office and we'll be happy to help you.