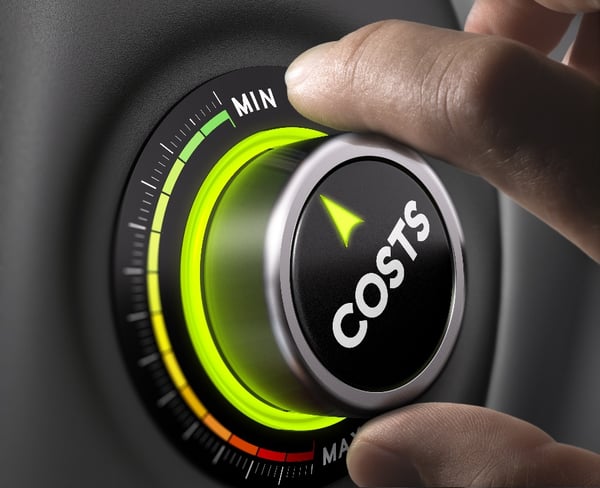 Regardless of the number of vehicles in a fleet management company, all fleet managers should be concerned about lowering fleet costs and boosting efficiency.
When fleet costs are lower, customers benefit. Here are nine ways on how to lower fleet costs and boost efficiency, along with how our company keeps costs down, which makes us more efficient.
1. REDUCE FUEL CONSUMPTION
The cost of fuel ranks as the second largest expense for fleet managers. One of the main ways to lower fuel costs is by reducing fuel consumption. Although the cost of fuel is somewhat lower than what it was a year ago, it's still critical that a fleet management company keeps its fuel expenses as low as possible.
One solution for doing this is to be more aware of the amount of time that fleet vehicles are operating as well as where and when they stop.
Another way involves dispatching the closest workers who can respond to client calls, along with giving drivers routes that are the most fuel efficient. A third method is using accurate data, regarding when an engine is running and is idle.
2. DOWNSIZE FLEETS
A huge solution for lowering fleet costs is to cut the number of vehicles in a fleet. For example, when a fleet management company is not using some of their trucks, then they should remove them.
Sometimes, drivers can share a vehicle. When you reduce your number of vehicles in a fleet, you're also saving on operating expenses.
3. REDUCE VEHICLE SIZE
By downsizing and reducing the weight and size of their vehicles, fleet managers can save money, besides improve efficiency.
This entails having a better knowledge of a vehicle's functional purpose so u can purchase the best vehicles and get more MPG (miles per gallon).
4. REDUCE MILES TRAVELED
Fleet managers need to make detailed policies pertaining to personal use on vehicles. For example, when drivers use fleet vehicles that aren't justified for business purposes, fleet managers should call them out and enforce consequences.
Consider how failing to do so can lead to higher fuel costs, besides more wear and tear on vehicles.
5. FOCUS ON DRIVER BEHAVIOR
When a fleet management company hires the wrong drivers, this can lead to increased costs. Even worse, these employees can easily create costly wear and tear on vehicles.
It's important to be aware of bad drivers. That's why fleet managers should check yearly driving reports because this can reveal poor driving habits that need correcting.
6. USE THE LATEST TECHNOLOGY AND FLEET MANAGEMENT SOFTWARE
By taking advantage of the most up-to-date technology, fleet managers can both improve efficiency and lower fuel costs. For instance, they can use a wide range of media communications, such as teleconferencing for eliminating extra traveling.
What's more, GPS devices and other solutions are able to significantly lower mileage as they improve routing, while promote better driving habits.
Using updated fleet management software helps significantly in improving the performance of fleet drivers, which helps in saving fuel costs. This software reveals driving issues, such as speeding, stopping, hard breaking and rapid acceleration.
7. REGULARLY MAINTAIN VEHICLES
Fleet vehicles need regular maintenance for keeping costs low. By giving vehicles regular tune-ups, fleet management companies are able to increase their gas mileage by about four percent.
When vehicles are equipped with a high-quality fleet management system, fleet drivers and their managers know when their vehicles need maintenance, thanks to engine, mileage and date alerts.
8. CHECK AND RETREAD TIRES WHEN NECESSARY
Tires for fleet vehicles make up a large chunk of a fleet's expenses. Rather than replacing old tires, it's more cost-effective to retread tires.
By retreading your radial ply castings the mileage is increased until it's time to invest in a set of new tires. This is also an ideal solution for saving on the cost for tires without having to sacrifice on fleet safety.
9. IMPROVE DISPATCH PROCEDURES
When fleet managers have to call each of their individual drivers for information, such as job status updates, location and other data, they can waste time and fuel. That's why a fleet manager needs effective dispatching procedures.
A good dispatching solution involves using real-time information for determining the employee who's the closet to a job site by using two-way messaging for better communication updates on jobs. As a result, you get the routes that are the most fuel efficient.
These are only a few ways we're lowering costs and improving efficiency. As the largest fleet management company in the Southeast, we have an excellent reputation for delivering high-quality services. To learn more about our various fleet management services, contact us.