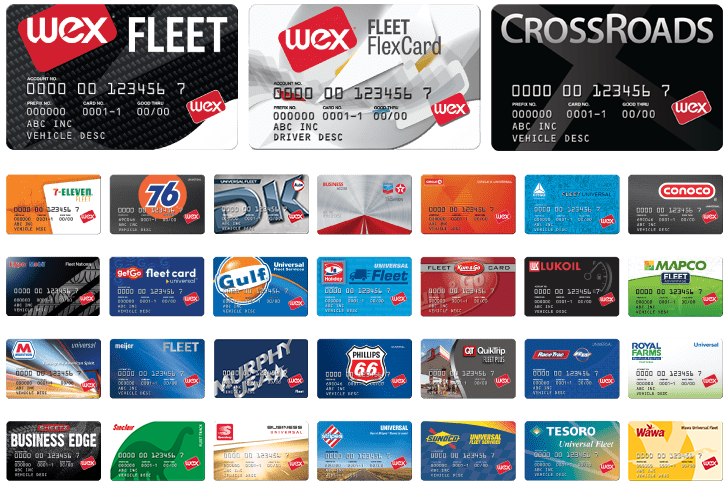 Fuel cards are an essential part of managing most commercial fleets. Unless you run an urban fleet of EV-only vehicles, no doubt your drivers will need to fuel up on the road.
A fuel card system makes it easy to provide your drivers with the funds they need for fuel while also tracking your expenses, driver data, and staying within your planned budget for fueling.
Of course, choosing the right fuel card for your fleet is not as simple as knowing you need one. It's important to compare and contrast your fuel card options to find the best combination of deals, management features, and payment structures for your specific fleet needs.
Here at Wilmar, Inc, we like to make things easy for fleet managers in every way we can think of. Part of that is our ongoing partnership with WEX, a provider of fleet fuel cards and financial solutions. WEX offers two fuel card options for fleets based on how you prefer to manage your team and fleet finances; the FleetCard, and the FlexCard.
They also offer the CrossRoads card for long-distance fleets and custom-tailored fleet cards for trucking fleets. Not sure which one is best for you? Let's dive into a detailed comparison to find the right choice for your fleet.
What All WEX Cards Have to Offer
One of the biggest challenges in fuel card comparisons is that most comparison services want to go through the "quote" process. You can't get an answer straight away without signing up for promotional materials beyond a simple card comparison.WEX, at least, makes it easy to provide a side-by-side comparison of the two fuel cards so we can easily see shared features and how to two cards differ.
All WEX cards:
Are accepted at 95% of US gas stations
Provide 24/7 customer service
Capture transaction data on every purchase for

Easy receipt tracking
Monitored spending; who, where, and when in real-time
Detailed spending reports

Individual Driver ID Numbers

Connect every purchase to the cardholding driver
Set individual limits

Fine Control Over Spending and Fueling

Restrict time-of-day fueling
Limit spending by product type, location, and cost

Online Account Management

Automatic fuel accounting and expense tracking
Online and mobile account updates and bill payment
100% paperless, no receipts or printed reports
Create your own custom fuel and spending reports
WEX Fleet Card vs the WEX FlexCard
Most fleets will likely choose between the Fleet Card and the FlexCard options. Both are optimized for small to medium-sized fleets and mainly focus on benefits for local routes and refueling. While they share all the previously listed features, the two cards differ in a few essential ways.
WEX Fleet Card
Manage your fuel expenses every month without worrying about rollover. What the Fleet Card really has to offer, however, is access to the WEX EDGE savings network. This network provides exclusive deals on small fleet essentials like fuel, tires, hotels, wireless, and more. Improve your entire fleet's buying power while incorporating a great fuel tracking system.
WEX FlexCard
The FlexCard offers a different set of benefits for fleet managers looking for a long-view consistency. There is no setup, annual, or card fees and instead of paying each month, you carry a monthly balance. While the FlexCard is not on the EDGE savings network, you can earn up to 3¢ per gallon in monthly rebates.
WEX CrossRoads and Trucking Fleet Cards
The WEX CrossRoads and Trucking fleet cards are available for larger fleets going longer distances with larger vehicles. Both offerings include the Wex service suite including the management platform, 24/7 reports, and individual driver IDs. Your choice will be based on which option is best optimized for your OTR fleet.
WEX Fleet Cross Roads Cards
The Fleet Cross Roads card includes independent truck stations like Loves and Flying J in addition to 95% of gas stations. In addition, the CrossRoads card provides access to the EDGE network of fuel and fleet savings.
Trucking Fleet One EDGE Fuel Cards
The WEX Fleet One EDGE card for trucking fleets, as you might guess by the name, also offers access to the EDGE savings network in addition to advanced finance management features with no fuel transactions at over 4,000 in-network sites. It also includes the Fleet One Factoring to protect from lost revenue and a handy online truck permit system.
Trucking EFS Fuel Card Solutions
The EFS fuel card solution is more tailored and designed for fleets with 50+ trucks on the road. This takes fuel card management to the next level with powerful online tools like fuel audit and reconciliation along with industry benchmarks. The EFS fuel card is also paired with the EFS MasterCard Fleet Card for acceptance of non-fuel purchases that can be essential for OTR drivers. As a bonus, the EFS card connects to a unique OTR mobile app for advanced on-demand management features.
The right fuel card for your fleet depends on the size of your fleet, the size of your vehicles, and your average route distances. Are you a small local fleet looking to optimize your expenses, a growing fleet with flexible fuel needs, or an OTR fleet in need of an advanced fuel card solution? Here at Wilmar Inc, we can help you find and optimize the perfect fuel card solution through our partnership with the WEX fuel card system.
Contact us today to start optimizing your fleet solutions.