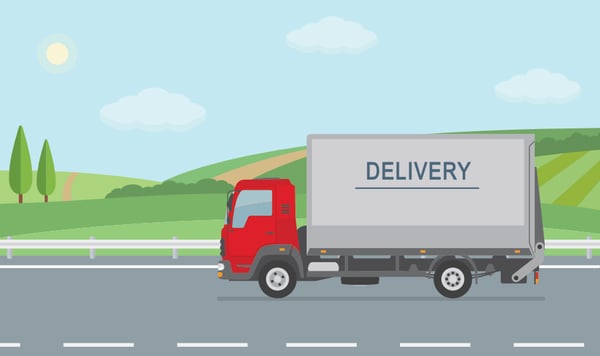 Fleet management involves so much more than simply maintaining a fleet of business vehicles. You don't just send teams out in the morning and greet them when they come in after shift. In most cases, fleet managers are also responsible for planning the logistics of routing and task assignment for every driver and vehicle on the job.
This is especially important for field-service businesses where you are dealing with a new dynamic route to customers' homes and businesses each day.
One of the biggest challenges faced by fleet managers is route planning. This can make a huge difference not only in your efficiency and scheduling but also in the number of services you can provide per day. Bad route planning has your teams spending an unnecessary amount of time on the road, sometimes even doubling back across their own path along the way.
Efficient routing, on the other hand, ensures that your team is always taking the shortest possible route from one customer to the next, reducing your 'dead' time between jobs. If you're looking to solve routing inefficiency, here's our best go-to method for making sure each of your teams is spending the least amount of lost time in on the road:
One Route for Each Available Team
This is the part you already know how to do. Establish one column or category for each one of your vehicle teams that will be heading out in the morning. You can do this on a spreadsheet, with pieces of paper on your desk, or through your fleet management software, as long as you have four blank lists to begin with.
Remember to think of these blank categories as routes, not the vehicles or people themselves. Routes you will be planning to perfection.
Separate Services by Neighborhood, Region, or Direction
Next, take your full list of jobs to be done that day and plot them all visibly on a map. If you don't have software that can plot multiple visible points, use Google Maps and this method to pin multiple points in order to get a clear view of what you're working with.
How can you separate these services into the right number of routes in which all services are "on the way" to one another? Chances are, your best bet is to separate them by neighborhood and region. This way, each of your drivers will be headed in a single direction and won't wind up crossing town more than once, reducing time lost to driving.
If services are spaced far apart, pick a direction to send each of your drivers rather than a neighborhood. This will make sure that closer services are always on the way out or back from more far-flung services without time wasted going to and from. Add the services in each cluster to the blank route lists.
The Path of Least Resistance
The next step is a bit like a connect-the-dots puzzle. For each segment of services you have designated, choose the path of least resistance. Determine the closest service in each segment to your HQ starting point and set that one as the first service.
Then the next closest, and the next, with the general idea of having one service point in the correct direction to those after it. If you have to make a few arbitrary decisions, favor routes heavy on right turns rather than lefts because this is statistically safer.
The idea is to make sure that every service is on the way to the one that follows. Therefore if you have a driver heading West, consider having them handle the north-west services on the way out from HQ and swing south to hand the southwest services on the way back. Each route will likely resemble a squiggly boomerang path for the greatest efficiency.
When you know what order the customers should be visited in for efficient routing, you can build your final schedule.
Planning for Fuel and Food Stops
Finally, don't forget to plan your routes with gas stations and food stops in mind. Once you get good at routing the services in an efficient way, you can improve your technique by working in additional destinations that will help out your teams.
If your teams are passing by a great take-out barbecue place around lunchtime, take the opportunity to actually plan the stop. If there is a particularly low-priced gas station along the way, schedule them to fuel up there to save your budget. And, of course, don't forget to check with your teams on where they'd like to stop for lunch and rest breaks.
Great route planning not only improves the efficiency of your field service business, but it can also make you the hero of your technician teams. When their jobs become easier and their breaks more enjoyable due to your careful logistics, everyone is happier, from the drivers to the customers who get cheerful on-time service. For more great fleet management tips, contact us today!