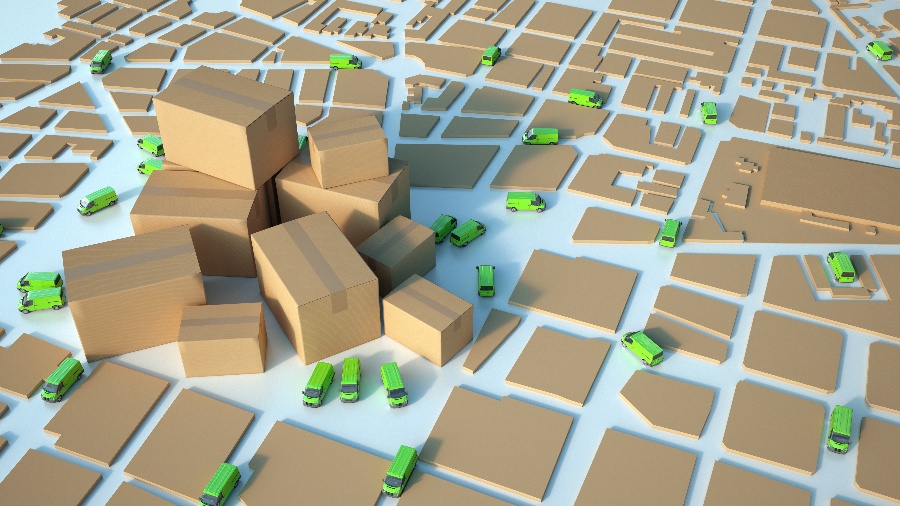 Fleet dispatching refers to the act of organizing and directing fleet drivers to perform various operations. It ensures that vehicles are serviced wherever they are, and deliveries reach their destination on time and in pristine condition.
Fleet dispatch with telematics addresses modern fleet management challenges by ensuring high-level accountability, control, efficiency, and visibility.
As you can see, fleet dispatching encompasses more than just assigning manifests to drivers and hoping that all goes well at the end of the run.
A Closer Look at Dispatch Management
Dispatch management is a complex task that requires fleet managers to take measures to optimize operational efficiency and ensure that customer expectations are met. At the center of dispatch management is 'routing/mapping.' Routing involves assigning drivers with the right qualifications and eligibility to suitable vehicles and getting them on the road as quickly as possible, so they can complete their stops as scheduled or based on customer expectations.
Routing usually varies based on industry-specific requirements. However, in general, it aims to ensure drivers cover fewer miles, fewer vehicles are used, and the fleet dispatch process is streamlined.
Attaining these goals isn't always easy. There are times when challenges arise and disrupt the whole process. The challenges may come in the form of issues with pick-ups and returns, dissatisfied customers, or failure to meet on-demand service requests.
To avert such challenges, you need to manage and optimize route sequences aggressively in real-time. Organizations that use dispatch management tend to rely on dispatch software –for a good reason. These solutions enable them to quickly dispatch stop(s) to an active drivers, pulling in a driver before their route is complete, or sneaking in a pick-up or return. In short, these solutions streamline dispatch management, allowing companies to stay on top of challenges.
Leverage Technology to Improve Dispatch Management
Times have changed. Gone are the days of managing dispatch using whiteboards. Today, software and technology have become a big part of fleet management. Communication, tracking, and delivery can now be performed via a mobile platform.
Each driver typically has a table or a smartphone, which the fleet manager uses to coordinate with them. The device has an app that facilitates all the things the driver requires to perform their task, including pictures, scanning, signature capture, and reading trouble tickets.
Other advances in fleet dispatch management that optimize the fleet dispatch process include:
Route sequencing
Wireless communication
Telematics integration for real-time GPS tracking
Barcode scanning support
ERP integration
Telematics and CRM add-ons and APIs
Digital signature capture
Electronic data interchange support
By leveraging cloud technology, smartphones, telematics integration, and the power of real-time GPS tracking, logistics companies can realize improved efficiency and cost savings.
Ways of Streamlining Fleet Dispatch
Fleet dispatching is in no way easy. And it gets even more complicated when you have a large fleet and perform the process manually. Even so, there are steps you can take to streamline the process. They include:
Optimize Routes
By leveraging software to optimize your routes, you can easily plan routes for all the vehicles in your fleet. The software can also calculate the best route for drivers to take. You can do this regardless of the number of drivers or vehicles in your fleet.
Better Scheduling
Using software can also help you better plan your schedules. Most software automatically generates schedules for each driver once you have planned the route.
Schedule Breaks
You can easily get caught with many orders to the point that you forget about your driver's welfare. You can easily add breaks to their schedules by using software to schedule. This way, you'll remain compliant with regulations and keep your fleet drivers safe and happy.
Make Dynamic Adjustments
Any issues such as driver delays can seriously affect your pre-planned route and schedules. Routing software can ensure that you stick to your pre-planned schedule since it always allows you to adjust routes and schedules in real-time.
Optimize Your Fleet Dispatch Today
Organizing and directing your drivers and vehicles can be daunting, especially if you have a large fleet. We at Wilmar Inc have a solution for your problem. You can rely on our fleet management services to ensure your fleet dispatch process is streamlined. Once we have assessed your needs, we can help you manage the challenges that come with fleet management. Contact us for more information.