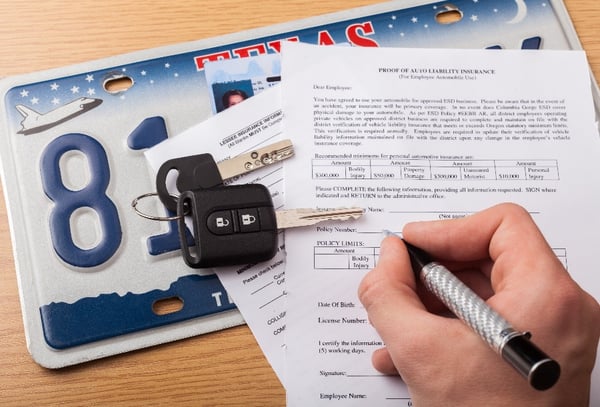 Business is booming and it's time to make some serious decisions about growth. After careful consideration and planning, you've decided that it's time to adjust your business strategy and lease a vehicle for your company. You know that it requires a smaller capital investment than buying a new vehicle, but you may have concerns about other costs associated with leasing.
For example, who is responsible for registration on a leased vehicle? What about the annual license plate renewals?
Ownership Is Key
When you lease a vehicle, you sign an agreement that allows you to use the vehicle for a specific amount of time and at a set rate. At no point during the lease agreement do you actually own the vehicle, it remains the property of the leasing company.
What that means is that the dealership or fleet leasing company owns the vehicle and is legally responsible for it.
Contractually, you may be responsible for other costs such as insurance, excessive mileage, wear and tear, or damages, but not for the registration, title, or license.
Registration of Leased Vehicles
Managing fleet vehicles is a time-consuming task and it can be daunting to a small business owner, even if they only have a micro-fleet.
The bigger the fleet gets, the more difficult it becomes to stay on top of the current vehicles and new additions. A fleet management company like Wilmar owns the vehicles they lease to customers like you.
That means they're responsible for everything including legally registering the vehicles with the proper authorities.
Who Holds the Title of the Leased Vehicle?
As with a personal vehicle, the title of a leased vehicle is in the name of the owner of the vehicle. Since the leasing company holds the registration, their name will also appear on the title.
As the legal owners of the vehicle, they take on the responsibilities of maintenance and repairs as part of their investment. This is generally a part of the lease agreement, especially for larger fleets.
A business that leases their vehicles is assured that they're all in good mechanical condition, compliant, and safe to operate.
Licensing of Leased Vehicles
Fleet vehicles and leased commercial vehicles are regulated more closely than passenger vehicles.
Every state, along with the federal government, has specific licensing requirements for commercial vehicles and non-compliance can lead to hefty fees and other legal costs.
Failing to obtain the proper license or to renew it on time adds unnecessary costs and takes valuable time. Wilmar makes sure that every leased fleet vehicle is up-to-date and compliant so you don't have to worry about it.
Worry-Free Fleet Vehicle Leasing
Besides being able to have late-model vehicles on their fleets at low rates, one of the main reasons business owners like you lease their vehicles is time management.
Every day there are endless tasks to be done, decisions to be made, and progress to make. Owning a fleet vehicle, or five, or ten, adds even more work to an already overloaded schedule in addition to the budget concerns associated with repairs and maintenance.
Leasing a vehicle relieves all of these stresses and lets you focus on what matters most to you and your business.
If you want to learn more about the benefits of leasing vehicles rather than investing in an in-house fleet, contact us at Wilmar.
We specialize in fleet analysis to help you find the perfect fleet vehicles for you application. Our fleet management services include everything you'd expect from properly registered, titled, and licensed vehicles, maintenance and repair programs, and options to help you scale your business, even if it's one vehicle at a time.