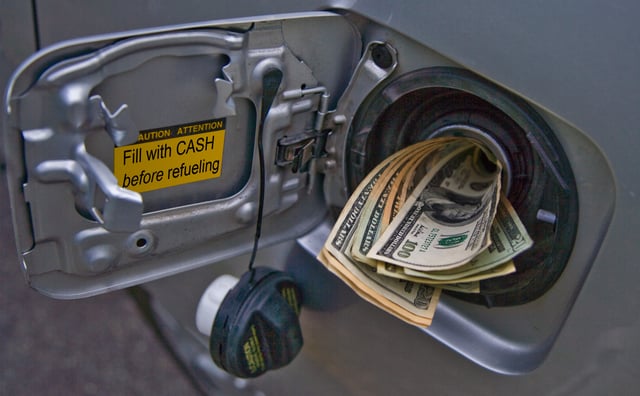 A top concern for businesses that depend on a fleet of vehicles is the cutting of fuel spend. Fuel costs remain one of the higher expenses of fleet management.
The details of a fleet's operation will determine how much money becomes allocated to fuel. The influence of those elements and how companies approach each one will decide if your fleet's fuel consumption will positively or negatively affect the all-important bottom line. Reduce fleet fueling costs and increase profitability for your company is the objective.
Ultimately, ROI is the chief objective of fleet operation and management. While there are many steps companies can take to reduce fuel costs, below are ten essential practices we believe fleet managers can implement for better fuel efficiency.
#1-Rightsizing Your Vehicle Fleet
When taking a macro view, rightsizing is one of the quickest methods to reduce fuel spending. Rightsizing can come in the form of lowering the numbers in a fleet or shifting to smaller vehicles.
The former allows you to decrease fuel and overall business costs while being able to adjust to the economics of the country and your company while keeping an optimal fleet size.
The latter enables you to pivot to smaller, newer vehicles that are lighter in weight and more fuel efficient. Both are great options as long as they prove to be beneficial and don't hinder operations.
#2-Preventive Maintenance
Regularly servicing your fleet plays a significant role in decreasing fuel spend. Being proactive with your PM puts your vehicle in a position to be available more often than not. It also helps with fuel efficiency as doing simple things like using the right motor oil (manufacturer recommended) or changing the air filter helps leads to increased fuel economy.
#3-Route Optimization
Being able to plan and track driver's routes is a practical method to control fuel spending. Over the years technological innovations have led to a variety of GPS devices and mapping/routing software. These devices and software help minimize fuel consumption, and unnecessary traveled miles.
#4-Driver Behavior
Improving driver behavior can significantly diminish fuel costs. Below are a few bad habits companies can help drivers improve upon:
#5-Speeding
A 2008 study by the U.S. General Accounting Office states that for every 5 miles driven above 35 mph, there is a fuel efficiency reduction of 5% to 10%. Simply put, going faster requires more fuel to retain that speed.
#6-Idling
0 mph is what you get from idling. Extended periods of idling is nothing more than a waste of fuel and money. Fleet tracking systems can help companies monitor the costly issue of prolonged idling.
#7-Accelerations
Drivers that accelerate hard negatively affect fuel consumption while also putting pressure on the transmission. Technology such as telematics can assist in this regard by recognizing which drivers have an issue with hard accelerations.
#8-Tire Inflation
A low cost, underrated method to constrain fuel investments is to make sure that tires are at the manufacturer's recommended psi level. An underinflated tire can increase fuel consumption and decrease tire tread life faster. Tire maintenance is necessary for driver safety and fuel costs.
#9-Fuel Card Management
While fuel cards have been around for decades, technology has made them even more vital when overseeing a fleet. Being able to manage and monitor a driver's fueling habits and other data allows for fleet supervisors to concentrate on areas of wastefulness.
#10-Decrease Air Flow
Drag, more commonly associated with NASCAR, is an influential factor in the decrease of fuel efficiency. Taking actions such as keeping the windows shut or limiting AC units as much as comfortably possible, streamlines your car into getting more miles per gallon.
#11-Weight Reduction
Significantly overloading can reduce fuel efficiency and wear down a vehicle. FuelEconomy.gov states that 100 pounds of extra weight can reduce fuel usage up to 1%. While the size of a vehicle plays a part in how much an overload affects fuel economy, a good rule of thumb is transport only what is necessary for any particular job.
There are many steps a company can take to reduce the cost of fuel consumption. The above advice is logical, simple and proven techniques that help save money.
Wilmar, Inc understands the subtleties that come with managing a fleet. We take the time to discover the objectives of your company and customize a program specifically for your needs. For more information on how we put together a fleet solution that benefits your business, please contact us or call 1-800-488-8451.