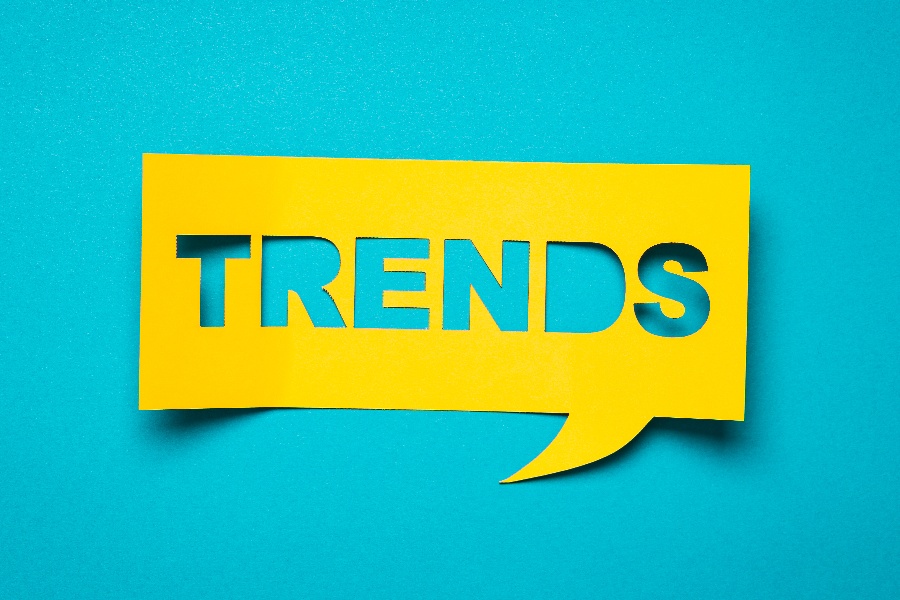 When used exclusively as work vehicles, pickup trucks have been a staple of American life for decades. But it's no secret that pickup trucks are also becoming increasingly popular in the consumer market. This was made evident in 2022 when North America's big three pickup and commercial truck makers, Ford, GM, and Ram, released a slew of impressive figures on their overall sales.
The Ford F-series continues its long reign as America's most popular pickup truck, now holding the title for 46 consecutive years. An impressive feat, to say the least. GM also had quite a year, claiming the number-one spot for total pickup sales for the ninth consecutive year. But perhaps the most remarkable news was Ram's commercial fleet performance, with their ProMaster model making huge gains.
Ford
According to Ford, the F-Series was anticipated to surpass 640,000 sales in 2022, with an average of at least one F-Series truck sold every 49 seconds during the year. That makes it the best-selling truck for 46 consecutive years and America's best-selling vehicle for 41 years.
In a statement, Kumar Galhotra, president of Ford Blue, said: "The Ford truck team's ability to anticipate customer needs, continuously innovate, and provide best-in-class levels of capability and performance has helped make F-Series the sales leader time and time again. We're honored and humbled that our customers have helped us achieve this milestone for over four decades."
From entry-level XL to well-equipped Limited, F-150 to F-550 chassis cab, and EcoBoost to the all-electric F-150 Lightning, Ford's lineup of pickups had something for everyone in 2022. And as the 75th anniversary of the F-Series approaches, Ford is already looking to the future with even more innovation, efficiency, and capability.
The all-electric F-150 Lightning has already become the best-selling EV pickup truck on the market. The recently introduced F-Series Super Duty, with several groundbreaking features, has racked up an incredible 150,000 orders.
GM
General Motors made quite a statement in 2022 when it reclaimed its U.S. sales crown from Toyota Motor, with a slight increase in total U.S. vehicle sales despite supply chain problems over the year. According to CNBC news, GM reported 2.27 million sales in 2022, a 2.5% increase over 2021, with a 41.4% jump during the fourth quarter alone.
Perhaps most impressive was GM's pickup truck performance, with the automaker boasting the number-one ranking for total pickups for the ninth consecutive year and holding the top spot for light-duty and heavy-duty pickups for the third consecutive year.
Although GM has significantly ditched hybrids for all-electric vehicles, it is still largely dominated by large, gas-guzzling pickups and SUVs. Last year, GM sold over 1.1 million mid-size pickups and full-size trucks, including SUVs, representing nearly 50% of their annual sales.
While the traditional truck market is still huge for GM, there are also some exciting prospects for the future. GM plans to build on its momentum in 2023, with nine new all-electric models set to join the Chevy Bolt EV and Bolt EUV.
In his statement, GM Executive Vice President and President at GM North America Steve Carlisle said, "We see opportunities to grow our EV market share with nine all-electric models on sale, expand our truck leadership with four new Chevrolet and GMC heavy-duty and mid-size pickups, and win new customers with the affordable and stylish 2024 Chevrolet Trax, which is the best entry-level vehicle we've ever built."
Ram
Although the Ford F-series has long held the title of America's most popular truck, Ram is certainly making its presence known. The automaker boasts a massive lineup of trucks, including the light-duty Ram 1500, heavy-duty 2500 and 3500 models, and the mid-size Ram 1500 Rebel. However, Ram's commercial fleet performance stands out the most.
According to FCA US LLC, a North American automaker based in Auburn Hills, Michigan, Ram vehicles saw a 28% increase in U.S. sales within its commercial fleet channel compared to 2021 and a 72% increase in total sales during the fourth quarter versus last year.
A demand for Ram commercial fleet vehicles boosted sales of the Ram ProMaster van, which saw a 33% increase in total U.S. sales during the fourth quarter compared to 2021. Meanwhile, the Ram ProMaster City saw up to 102% increase in its retail sales and an 83% rise in total U.S. fourth-quarter sales compared to last year.
The future looks even brighter for Ram. At the influential tech event CES 2023 in Las Vegas, the Ram Truck brand unveiled its groundbreaking Ram 1500 Revolution (BEV) Concept. This new all-electric vehicle would mark its first foray into the electric truck market.
Through his statement, Jim Sharifi, managing editor of U.S. News Best Cars, summed up Ram's success in 2023: "For the fourth consecutive year, Ram wins the award on the strength of the Ram 1500, which is one of the few trucks on the market to make a case for itself as both a work vehicle and a daily driver. The Ram 1500 features a coil-spring rear suspension, making it comfortable for commuting but capable enough for serious towing and hauling."
Bottom Line
In a year marred by supply chain problems and the coronavirus pandemic, the North American Big Three commercial truckmakers, Ford, GM, and Ram, all had a positive 2023. Despite the challenging times, Ford managed to maintain its grip on the U.S. pickup truck market. GM saw a resurgence in its large pickup and SUV sales. At the same time, Ram has made significant headway into the commercial fleet market with impressive sales performance and a concept electric truck that could be the first of its kind.
In light of these successes, it will be interesting to see how the Big Three truckmakers continue to shape the market in the future. If you're in the market for a commercial fleet and need help deciding which truck is right for your business, Wilmar is here to help! Our fleet optimization analysis can help you make the best choice for your business. Contact us today to get started!