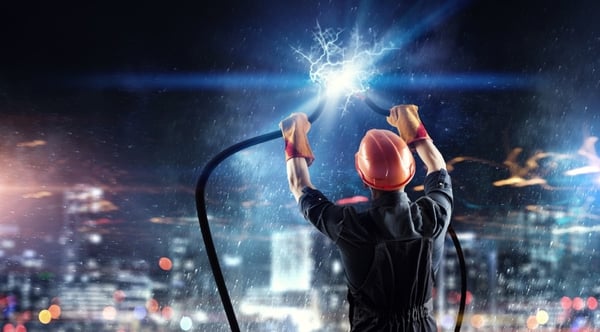 Running a company of electricians is just as challenging as managing plumbers or other workers who have to work on call out in the field. Even more complicated is attempting to manage the fleet vehicles your team of electricians use to travel from one place to another.
While you've maybe successfully created branded trucks for your crew, how well can you manage maintenance and other issues? Without proper management control, you could run the risk of your vehicles breaking down or your drivers not adhering to rules. Fleet management for electricians can be quite a task to handle while running your business.
Outsourcing your fleet management is a major solution to think about.
Maintaining Your Electrician Vehicles
Keeping up with maintenance is a must to keep your electricians from missing appointments. There isn't anything worse for branding than having your fleet trucks suddenly breaking down at the worst possible moments. When your electricians have strict deadlines and projects to work on, having to reschedule due to a vehicle breakdown is more than a little embarrassing.
When you outsource your fleet management duties, you can gain more local, hands-on approaches to maintenance. If you have a centrally-located management center, it makes maintenance a lot more difficult, especially for your electricians having to drive long distances.
Proper local maintenance scopes out mechanical problems early, allowing your drivers to improve their mileage and stay safe.
For the safety of your electricians, maintenance is essential. Something as simple as retreading fleet vehicle tires regularly can eliminate an accident on a major highway.
Tracking Driver Behavior
Many electrician managers continually try to find ways to track their drivers to ensure they don't "goof off on the clock."
Tracking devices have become a new way to do this, including telematic programs that use cellular technology as well as GPS systems. In some cases, it's small cameras allowing you to see what your electricians do when driving to their destinations.
One thing you can find out is what routes they take. Understanding where they drive gives you information on how to best streamline their mileage. Through an outsourced team, they'll help your electricians find more efficient driving routes to help you save on your gas bills.
Leasing Your Electrician Trucks
Recently, reports showed leasing fleet vehicles will become a more common activity by the coming decade. The cost aspects to this make sense when considering buying fleet vehicles can become a major expense that doesn't always pay back.
It's possible to lease your electrician vehicles through an outsourced fleet management service. You'll only find this through the highest quality providers, but the financial benefits create a domino effect.
For instance, leasing allows you to gain access to many technologies you wouldn't have to invest in, including GPS systems. LinkedIn notes you can save on insurance costs by using GPS, potentially adding even more savings to your electrician business.
Finding the Right Vehicles for Your Electricians
Since your electricians are going to spend long hours in their vehicles, you need to help them find one they'll be comfortable using for years to come. A proper outsourced fleet management service is going to work closely with you to pick out the right fleet vehicles, including after-marketing upfitting.
You obviously want trucks big enough to contain all the necessary electrician equipment without making them overcrowded. At the same time, you want something within a reasonable budget without having to spend on overly large trucks.
Plus, it's possible to build your own vehicle using the right platform. Here at Wilmar, Inc., we provide such a tool to help you find exactly the type of fleet vehicles your electricians need.
Contact us to learn about our outsourced fleet management for electricians, including the ability to lease all your vehicles at affordable cost and help your bottom line by preserving operating capital.