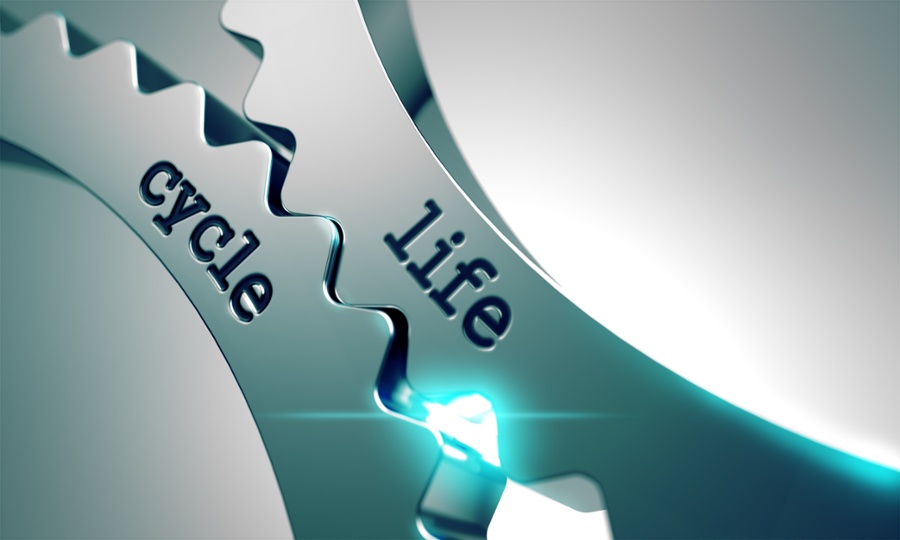 Managing the lifecycle of your work trucks is challenging but surmountable. Fleet managers need to navigate all the ways different parts of the fleet lifecycle are interconnected. Managing the buy, drive, service, and sell cycles of work truck fleets will ensure your fleet's long, useful lives and high resale values.
But what is a truck's lifecycle? This is the time between the purchase and disposal of a truck, i.e., the useful life of your truck. Understanding the lifecycle of your fleet is crucial as it enables you to identify a proper cycling strategy. It will allow you to know the right time to cycle your trucks and avoid unnecessary depreciation costs when done early or downtime expenses when done too late.
What Does a Fleet Lifecycle Entail?
A successful lifecycle strategy is all about finding the ideal balance between cost and reliability based on your most important business needs. Fleet managers have to find the right balance between the falling fixed costs and the rising maintenance costs of their fleet. A young fleet has a high fixed expense, and one that is too old diverts attention from servicing your customers to maintaining your older vehicles.
Your overall fleet management strategy should be aimed at establishing an optimal lifecycle for your trucks. How often you're using vehicles, capital expenditure, and repair versus replace decisions are determined by how long you decide to keep a truck in service. Always keep in mind that there isn't one particular lifecycle strategy that will cover all asset classes and truck types.
What are the Elements Involved in an Ideal Lifecycle?
The ideal life cycle for a particular truck will depend on elements such as the job function, vehicle specifications, geographic location, and payloads, and how the truck is important to your fleet. You should adjust these factors to meet the unique needs of your fleet. Understanding the lifecycle of your work trucks is crucial for the development and successful execution of your fleet plan.
Not only are fleet managers responsible for managing fleets in a cost-efficient manner, but they must also ensure that the trucks can get the job done. Downtime can be a very expensive affair for your truck fleet company. One of the best solutions to mitigate this expense and avoid unnecessary consequences of pushing your fleet's life cycle too long is to plan.
Understanding the elements that impact a vehicle's lifecycle is crucial to striking the right balance between vehicle productivity and operational costs. The ideal situation for a fleet manager is where the operating costs are at their lowest, and the fleet is operating efficiently with minimal downtime.
Replacing your truck before that optimal point means that you risk overpaying on the effective depreciation costs of your vehicle. It also means you risk paying for rising variable costs that include repairs and downtime expenses.
How to Increase the Useful Life of the Fleet
Getting the most out of your truck fleet depends on effective management and cost control. There are several steps that you can take to help increase the useful life of your trucks. Do not overlook the obvious things that keep your fleet running, such as ensuring preventive maintenance compliance by taking your fleet for regular inspections.
A comprehensive preventive maintenance strategy will help you maximize the useful life of your fleet. This will help you manage operating costs, increase fleet reliability, and minimize truck downtimes. It all boils down to how consistent you are with your preventive maintenance program. Skipping services will raise your operating expenses over time.
How the Type of Trucks Influences Lifecycle
Building your trucks to meet the demands of the job it is required to do will have a big impact on their useful lives. Leverage data to know the best replacement cycle for your fleet. Having up-to-date knowledge of OEM requirements for load and tow capacity and maintenance costs will help you increase the useful life of your trucks.
Lifecycles and Truck Resale
The resale value of your vehicles is greatly influenced by truck age, mileage, conditions, and popularity. Cycling trucks at the ideal time allows you to maximize resale values during the peak times of your vehicles before they depreciate. Fleet managers should consider purchasing new vehicle models that will hold their value and are easily transferable to the retail market.
Determining the right lifecycle for your fleet hinges on the resale value of your trucks. Fleets that get higher returns replace older units faster than those with lower returns. The resale value is an important element when crafting an optimal fleet life cycle. Generally, you are better off selling your vehicle during the ideal window to maximize returns on the secondary market rather than running it aground.
A fleet manager can ensure your fleet lasts longer and has a higher value when you sell it by carefully caring for your vehicles. Wilmer is here to take care of all your fleet management issues so that you have more time to take care of your core business.
Contact us today for all your fleet management needs, and we will be happy to offer you our services at fair rates.